MONTHLY NEWSLETTER
Dear Comrades,
It is our pleasure to present to you the latest edition of
RED,

WHITE,

AND

BLUE

, THREE NINETY TWO's Monthly Newsletter. The March 2018 Newsletter is now available. In it you will find messages from the Post Leadership, upcoming events, recent past events, birthdays, passings, and longevity awards. Please take the time to fully review the newsletter to see what YOUR VFW is doing for the community.

Scroll all the way down to see all available Newsletters and our subscription link.

Please scroll to the bottom of the page to get information on our Virginia State VA Representative, Virginia Pauley, effective May 2015.




Please note that effective February 1st, 2017, this prohibition includes vaping.



Please refresh the page to ensure you're seeing the most recent version.

If you need assistance reading the newsletter, you can download the Adobe Newsletter Reader, which uses your computers voice software to "read" the newsletter to those with visual difficulties. Click the image below to be taken to the download page. Make sure to uncheck the optional offer if you don't want it before you click on Install Now.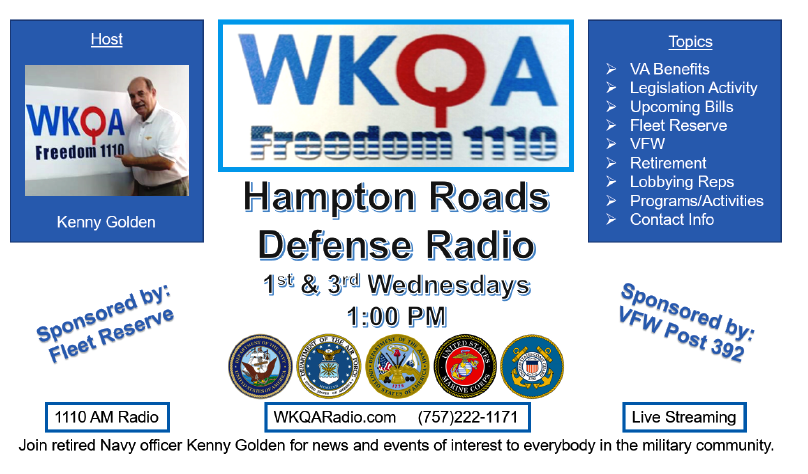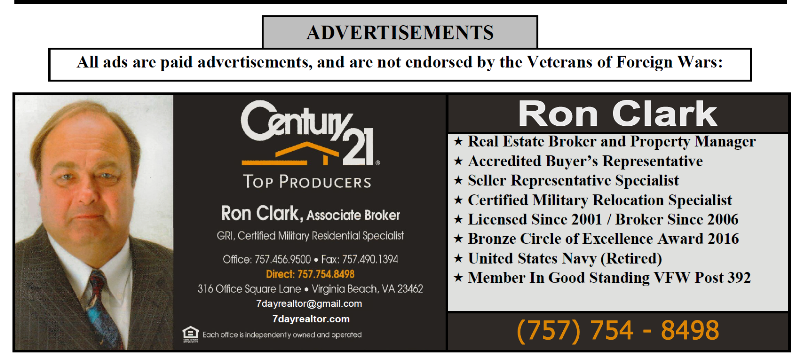 Tweets by @VFWPost392
For Immediate Release:
March 16, 2018
Contacts:
Office of the Governor: Ofirah Yheskel, Ofirah.Yheskel@governor.virginia.gov | Virginia Department of Veterans Services: Tina Parlett-Calhoun, Communications Director, (804) 840-0713, Tina.Parlett-Calhoun@dvs.virginia.gov
Virginia Celebrates First Women Veterans Week in the Commonwealth
~Governor Northam calls on all Virginians to recognize the service of Virginia's women veterans~
RICHMOND – Governor Ralph Northam announced today that Virginia's inaugural Women Veterans Week will be celebrated March 18-24. Women Veterans Week will be celebrated the third full week of March in succeeding years, as a time to honor the service and sacrifice of the Commonwealth's female veterans. This commemorative week occurs during Women's History Month, which serves as an annual declared observance of the contributions of women to events in history and contemporary society.
"Throughout the history of our Commonwealth and our nation, women have served with honor and distinction as a vital part of our military," said Governor Northam. "Virginia is proud to be home to more than 100,000 women veterans, the highest percentage of female veterans of any state in the Nation. As a veteran myself, I have had the opportunity to serve side-by-side with women both in combat zones and on base back home. I commend Senator Jennifer Wexton and Delegate Kathleen Murphy for leading the effort to introduce this Women Veterans Week resolution and their colleagues in the Virginia Senate and House of Delegates for their overwhelming support."
"I join with Governor Northam in celebrating Women Veterans Week in Virginia," said Carlos Hopkins, Virginia Secretary of Veterans and Defense Affairs. "The women we honor are our wives, daughters, mothers, and grandmothers. They are our sisters, our aunts, our neighbors and co-workers. Many are also military spouses. Not only have they unselfishly served our military, they have returned to the civilian world as leaders in their communities, in the public and private sectors, and as the bedrock of their families. Our Commonwealth values their contributions and we want to do everything we can to provide them with the recognition and benefits they have rightfully earned."
"Virginia proactively supports its women veteran community, by hosting an annual Virginia Women Veterans Summit," said Annie Walker, Director of the Veterans Education, Transition, and Employment division of the Virginia Department of Veterans Services. "The theme of this year's Summit is Change Makers & Trailblazers: The Power of Being a Woman-The Strength of Being a Veteran. The summit will bring together nationally recognized speakers and include discussions on a variety of issues facing women veterans. We encourage all women veterans to register and attend."
Complete information about the summit, registration details, and special events commemorating Women Veterans Week may be found at www.dvs.virginia.gov.
ANNOUNCEMENT ABOUT CHANGES FOR ACCESS TO MENTAL HEALTH SERVICES FOR NEWLY TRANSITIONED SERVICE MEMBERS LEAVING THE MILITARY
I wanted to make sure you are aware that earlier this month, President Trump and VA Secretary David Shulkin announced a new executive order that requires VA to provide "seamless access to mental health treatment and suicide prevention resources" to all Veterans for at least one year following separation from their military service. This will ensure those resources are available to new Veterans who otherwise may not qualify for VA health care. At this point, we are waiting for guidance from Central Office on exactly how we should implement the order locally. VA was directed to work with the Department of Defense and Homeland Security to develop a joint action plan, with implementation on or by March 9.
However, any newly transitioned Service member can contact the nearest VA medical center or Vet Center today, ask for mental health services, and start receiving care (even if they are not enrolled with VA).
Please ensure that you share this information with any Veteran who needs VA mental health services.
This procedural change is just one of the many efforts VA is undertaking to reduce Veteran suicide. Thank you for all that you do, and thank you for playing a vital role in helping us to reduce and eliminate Veteran suicide.
Sincerely,
Michael D. Adelman, M.D.
Network Director
VA Healthcare – VISN 4
E-Newsletter & Updates

Would you like to have the latest newsletter delivered to your e-mail inbox? Sign up here for your free copy of the "VFW 392 Newsletter", which is sent out towards the end of each month. If you have not received any electronic correspondence from the Post and wish to do so, please sign up below.

Your name and/or e-mail address will not be shared with or sold to anyone else

.

The newsletter contains post updates, messages from the post leadership, special features, and news about important topics relevant to veterans and today's active-duty, Reserve and Guard members.

Important: If you do sign up or currently receive e-mail notifications from the post, please ensure you add webmaster@vfw392.org to your contact list to ensure the e-mails are not sent to your SPAM folder.


Please note that we are now accepting advertisements within our Newsletter.



NEWSLETTER ADVERTISING & PRICING


All ads are paid advertisements, and are not endorsed by the Veterans of Foreign Wars.





The prices are as follows:
Ad Size –
Price per Duration
Full Page – Monthly
$150.00
Full Page – Quarterly
$400.00
Full Page – Yearly
$1500.00
½ Page – Monthly
$75.00
½ Page – Quarterly
$135.00
½ Page – Yearly
$775.00
¼ Page – Monthly
$50.00
¼ Page – Quarterly
$135.00
¼ Page – Yearly
$450.00
Business Card – Monthly
$30.00
Business Card – Quarterly
$80.00
Business Card – Yearly
$275.00


Be Seen In Our Newsletter!

VFW Post 392 is offering advertising space within our newsletter. We have a monthly circulation of over 2100, and unlimited potential via this website.
All content must be submitted to and approved by the Post prior to the 15th of each month.

If you are interested in purchasing advertisement space within our newsletter, please contact
Patrick Doyle, Post Quartermaster, at 486-5875 or via e-mail at vfwpost392@gmail.com.


VFW Post 392 On Facebook And Twitter
While the Post Newsletter is only updated monthly, regular updates about happenings at the Post are posted to both the

VFW Post 392

and VFW Post 392 Auxiliary pages on Facebook. Additionally, Post 392 can now be found on Twitter, at https://twitter.com/VFWPost392
To keep up with current events, click the appropriate page name above or the links on the left side or bottom of any page on this website and you will be taken to that page.



Upcoming Changes to TRICARE

Starting January 1, 2018, there may be changes to your TRICARE benefits. The following will remain the same:

TRICARE will continue to offer several different health plans.
All plans meet or exceed the requirements for minimal essential coverage under the Affordable Care Act.
Plan availability depends on who you are and where you live.
For full information on the changes, go to https://tricare.mil/changes




Vietnam Veterans Service Recognition


Vietnam War Veterans Honored at Fall 2017 Ceremony

On November 12th, 2017, Veterans' organizations in Virginia Beach held a joint ceremony for all the eligible Vietnam veterans in the city to honor their service. This special ceremony was held in support of the 50th anniversary commemoration of the Vietnam War, as outlined in the 2008 National Defense Authorization Act.

"Veterans from the Vietnam era faced different conditions than today's military veterans, and we want to make sure they each get the recognition they deserve for their service," said John J. Uhrin, III, himself a retired Naval commander who served in Vietnam. He lead the event organizing efforts, which includes gauging the interest of veterans and their families in attending a commemoration event.

Veterans who served on active duty during November 1, 1955 to May 15, 1975, regardless of location, were eligible to be honored at this ceremony, which was held at the Virginia Beach Convention Center. For more information about the cemeremony, or to view photos, visit http://www.vietnamvet50thvabeach.org.

About the Program

The commemorative program included activities and ceremonies to achieve the following objectives:

1. To thank and honor veterans of the Vietnam War, including personnel who were held as prisoners of war (POW), or listed as missing in action (MIA), for their service and sacrifice on behalf of the United States and to thank and honor the families of these veterans.
2. To highlight the service of the Armed Forces during the Vietnam War and the contributions of Federal agencies and governmental and non-governmental organizations that served with, or in support of, the Armed Forces.
3. To pay tribute to the contributions made on the home front by the people of the United States during the Vietnam War.
4. To highlight the advances in technology, science, and medicine related to military research conducted during the Vietnam War.
5. To recognize the contributions and sacrifices made by the allies of the United States during the Vietnam War.

The Commemoration is provided Vietnam Veteran lapel pins to commemorative partners for dignified public presentations to living U.S. military veterans who served during the Vietnam War period as a lasting memento of the nation's thanks. Living United States veterans who served on active duty in the U.S. Armed Forces at any time during the period of November 1, 1955 to May 15, 1975, regardless of location, are eligible to receive one lapel pin.

There are other categories of commemoration that are authorized for these events. They are for the most part for surviving spouses of the Vietnam Veterans. These categories and the certificates and pins that will be presented are shown to below:

2015-2016 ALL-STATE / ALL-AMERICAN POST SELECTIONS

Under the leadership of Doug Iles, VFW Post 392 Commander, along with Senior Vice Commander Steven Graves, and Junior Vice Commander Hipolito Camacho, and along with the rest of the Officers, Trustees, and Committee Chairs, Auxiliary, and most importantly, all the volunteers that gave selfishly of their time and abilities to complete the great number of projects, tasks, and recruiting efforts to allow Post 392 required to be completed to achieve this distinction, we are most proud to announce that VFW Post 392 has been recognized as not only an All-State Honor Post, but an All-American Post for the 2015-2016 operational year. A special congratulations to Commander Iles for his selection as the Captain of the All-State Team! Thank you to each and every person that made the efforts needed to allow us to achieve these awards.

HONOR FLIGHT MISSION #15 APRIL 23, 2016

Good Day Post and Auxiliary Members,

At Zero Dark Thirty Saturday April 23, 2016 Old Dominion University NROTC Hampton Roads, Old Dominion AROTC Monarch Battalion, Princess Anne and Lands Town High Schools respective Navy and Army ROTC and NJROTC students lined up in preparation to render honors to WWII and KOREAN WAR veterans as they walk to awaiting buses that will transport them to Washington, DC to visit various War Memorials. VFW members and Riders were present also providing much needed support.

The VFW Riders escorted Buses from Virginia Beach Departure Point (Regent University) to Dale City, Northern Virginia. Despite the rainy morning and a late notice change to our departure point the presence of the University ROTC and High School NJROTC students was remarkable. It was a superb showing of support and I can tell you from an inside the bus perspective they all looked great rendering honors standing along the roadside as the buses departed following the VFW Riders. It was well received by all the "Greatest Generation" Veterans.

Landstown High School's Color Guard and Princess Anne's great turn out, as always, was well received and for this mission it was no different. Many of the veterans also commented on the presence of our University ROTC students stating how lucky we are having our country's youth take up the call to defend the cloth of our nation. The veterans were very proud of them all. It is very gratifying seeing them continuing to come out supporting this very important and meaningful departure event.

As many of you know Honor Flight is a national organization that takes WW II and KOREAN WAR VETS to Washington, DC to visit their WAR MEMORIALS built in their honor. I served as "Obie's" Guardian (see photos) and it was a remarkable and very interesting trip. As I mentioned it rained early on but cleared up nicely in the end. We visited the WW II MEMORIAL, USMC "IWO JIMA" MEMORIAL, KOREAN WAR MEMORIAL, ARLINGTON'S TOMB OF THE UNKNOWN SOLDIER and had DINNER at a Knights of Columbus Hall in Arlington.

The Southside Departure Ceremony takes place twice a year (Fall/Spring) and is also joined by several civic and veteran organizations. Honor Flight Historic Triangle Virginia (HFHTVA) is a Williamsburg-based non-profit organization established in October 2008 with one goal: To take every World War II, Korean War and terminally ill veteran in the Hampton Roads and Richmond areas that is able and has not visited the World War II Memorial built in their honor on a charter bus day trip to Washington, DC. There is no charge to the veterans as they paid for it through their dedicated service to our great nation more than sixty five years ago. HFHTVA is a hub of the National Honor Flight Network, which was founded in 2005 and has over 130 hubs throughout the United States. They have taken over 160,000 veterans to the memorial as of November 2014.

Click on the image for a full size view of the photos below.

Departure Photo:

Photo taken by COL Jim Edge, USA (Ret

)

L to R: Bob Manges, USCG (Ret); CAPT Mike "Breeze" Barea, USN (Ret), VFW-392 Post Member; Charles "Obie" O'Brien, CDR, USN (Ret).

Bob Manges is 94 years old, sharp as a tack. Obie is 88 and has an aviator's sense of humor. All Great Stuff. It made for a Long Day (21 hours) but it was well worth it!

BUS STOP (Dale City) ENROUTE TO WASHINGTON DC PHOTO:

The Wall of Services Flags

L to R: Charles "Obie" O'Brien, CDR, USN (Ret)

(GREEN JACKET); CAPT Mike "Breeze" Barea, USN (Ret)(YELLOW JACKET), VFW-392 Post Member

WW II MEMORIAL PHOTO (Center):

Standing by Virginia

L to R: Charles "Obie" O'Brien, CDR, USN (Ret); CAPT Mike "Breeze" Barea, USN. (Ret); VFW-392 Post Member

USMC "IWO JIMA" MEMORIAL

USMC Silent Drill Team performs


For those who came out supporting this worthy event thank you for your continuing support. There is no greater display of patriotism but watching our veterans reactions when receiving honors as they board the buses. The next Honor Flight Mission #16 is on Saturday October 15, 2016. Please make a note of it. I look forward to seeing you there in October.

Very Respectfully,

Mike Barea (breeze)

CAPT, USN (Ret)

VFW-392 Member

Honor Flight Southside Coordinator

Honor Flight Guardian

Norfolk Office: (757) 893-6144

Cell: (757) 647-6876

VFW POST PRIDE TO SHOWCASE WORK OF VFW POSTS WORLDWIDE

Show how your Post is making an impact!

#VFWPostPride

KANSAS CITY, Mo. (November 19, 2015) – The VFW is pleased to introduce "VFW Post Pride," a new platform to showcase the dedicated support that VFW Posts, Auxiliaries and their members provide to veterans, service members, military families and to their communities.

For more than 116 years, VFW Posts have acted as the pillars of support to local communities worldwide. From coordinating welcome home celebrations and picnics, to building playgrounds and organizing clothing drives, VFW members take great pride in their work and VFW Post Pride will allow them to share it not only with the entire VFW community, but with the world.

Participation is simple! Capture a photo or video during your Post's next community service project, activity or troop support event, and share it to social media using the hash tag #VFWPostPride. Your content will then be displayed on the VFW national website alongside all other postings containing #VFWPostPride. See the page at: www.vfw.org/VFWPostPride.

In addition, VFW national staff will compile news stories, leads and submissions, also putting them on display here.

Not only is this a great way to show the world how the VFW continues to positively impact local communities, but it will also serve to provide ideas, success stories and collaboration opportunities to other Posts looking for ways to get involved or to implement new projects.

If you or your VFW Post are already active on social media, this is a great opportunity to engage with VFW members worldwide. For those without a social media account, VFW Post Pride provides a great incentive to take a step toward establishing an account and getting involved.

For guidance on establishing a Post, District or Department presence on social media, log in to the VFW website, and visit the Media and Public Relations link in the Training and Support section.

***** "VFW AUXILIARY" *****


As of August 21, 2015, the former Ladies Auxiliary is now known as the VFW Auxiliary! We are now accepting male family members into our Auxiliary. The requirements for membership are exactly the same as before. This is NOT a merger of the Men's Auxiliary with the former Ladies Auxiliary. Male applicants that were a member of the Men's Auxiliary need to fill out the new member's application and show proof of eligibility.

Please contact the Post 392 Auxiliary Membership Chairman Tina Brown or Treasurer Ellen Stogsdill for further information.




National Veterans News





VFW Annual Dues Increased

At the 2013 VFW National Convention, the voting membership approved a $10 annual renewal dues increase, which has gone into effect. All Annual Member renewals from this point on are at the increased rate.

Please note that now that annual memberships expire at the end of the month in which you join/renew, the Canteen staff is authorized to check member

ship cards to ensure they are current before the member will be allowed to partake in social events at the Post, including being served at the bar or signing in guests. As always, valid membership cards are required to attend Post meetings. If you are an annual member and have not yet renewed for 2016-2017, please renew now or consider purchasing a Life or Legacy Life membership and not ever having to worry about paying annual dues again!

Any questions, comments, or concerns can be addressed to the Post 392 Commander or Quartermaster.


Potential Fraud Alert

The Department of Veterans Affairs has been notified of potential fraudulent attempts to contact Veterans using VetSuccess.gov. These individuals may be operating under company names such as Auto-Desk, Venus Remedies, or Aesculap Implant Systems. Be aware that these are potential fake inquiries, and you should not communicate with or send any information to these individuals.

If you are contacted by an individual or company that is requesting to communicate with you through a suspicious communication method, do not communicate with these individuals. If the individual or company has communicated with you through a suspicious email, do not click on any links in the email, and do not provide any personal information to the individual. If you suspect that you may be victim of these suspicious activities, please contact the VetSuccess.gov team at 202-461-9600.

Do not share any of the following information with these companies or any other suspicious party:

Social Security Number or other National Identification Number
Driver's License Number
Bank Account Information
Credit Card Information

Passwords

Date of Birth

Please be mindful of the information you share with individuals or a prospective employer until you are confident that the employer and employment opportunity are legitimate. If you suspect that you may be victim of fraud as a result of these suspicious activities, please contact the VetSuccess.gov team at 202-461-9600.

VetSuccess.gov continues to make every effort to prevent this type of abuse. If you have received a suspicious email, phone call, text, or fax, please report the activity to VetSuccess at vetsuccesstech.vbavaco@va.gov.

Curtis L. Coy
Deputy Under Secretary for Economic Opportunity
Veterans Benefits Administration
U.S. Department of Veterans Affairs

Time for Veterans of Gulf War I to Apply For VA Disability Benefits Extended

Veterans of the Persian Gulf War with undiagnosed illnesses have until December 31, 2016 to apply for VA disability benefits. Under the previous VA rule any undiagnosed illnesses used to establish eligibility for VA benefits had to become apparent by Dec. 31, 2011.

When announcing the change Secretary of Veterans Affairs Eric K. Shinseki said: "Not all the wounds of war are fully understood. When there is uncertainty about the connection between a medical problem and military service, Veterans are entitled to the benefit of the doubt." Veterans or survivors who believe that they may qualify for these benefits should contact VA at 1-800-827-1000.


Further information about undiagnosed illnesses is available online at:

www.publichealth.va.gov/exposures/gulfwar

and

www.publichealth.va.gov/exposures/oefoif/index.asp




Local and Regional Veterans News

The Virginia Department of Veterans Services has opened offices in Virginia Beach and Alexandria. The openings on Thursday increases to 22 the number of veterans benefits offices operated in Virginia by the state agency.

The offices are intended to assist veterans with their paperwork and tracking claims. Representatives will also assist them if they appeal a claim. In addition, veterans' affairs representatives can help with other issues, such as pension claims and veterans compensation.

The Beach office is in Pembroke II at the Pembroke Office Park, 287 Independence Blvd., Suite 130. For more information, call Virginia Pauley at (757) 552-1884.

NOTE

:

VIRGINIA VETERANS AFFAIRS REPRESENTATIVE CHANGE - May 2015

Virginia Pauley is our local VA representative. We welcome Ms. Pauley and look forward to working with her concerning our local Veteran's affairs. She will be available at her office in Pembroke Bldg 2, 287 North Independence Blvd, Suite 130, Virginia Beach VA 23462, (757) 552-1884. You can also contact the Dept of VA concerning your VA questions and concerns at 1-800-827-1000.
Copyright © 2010-2017 Veterans of the Foreign Wars of the United States and Veterans of the Foreign Wars of the United States Post 392.
All rights reserved. Privacy Policy